Online Enrollment!
You can access the necessary enrollment form from your Powerschool Parent Portal. We will no longer be printing out enrollment forms. If for any reason you are not able to complete this at home, we will have devices available for your use in the MS/HS Commons area on August 6th from 7am-7pm, along with staff available to assist you if needed. If you do not have or know your parent portal access information, please contact the MS/HS office at 620-385-2631 or the elementary office at 620-385-2556.
Returning Student Registration- is for students who HAVE attended USD 381-Spearville Schools the previous year. Parent(s) MUST have a PowerSchool username & password to the PowerSchool Parent Portal, if NOT you MUST create an account by obtaining an Access ID & password from the office.
New Student Registration- is for incoming 4-yr old Pre-K students, Kindergarteners, AND students who have attended another school the previous school year OR have NEVER attended USD 381-Spearville Schools. If this is the case, please contact one of our secretaries to assist you in getting set up for registration.
Misty Tenbrink (MS/HS Secretary) 620-385-2631
Kristie Rhoades (Elementary Secretary) 620-385-2556
The PowerSchool app can not be used to enroll your student.
How do I get started?
1. Sign into PowerSchool. (Link is provided on the school website under Parent Tab)
If you don't have an account, follow the link for step-by-step instructions on how to set one up. Create an Account Instructions

2. Select "PowerSchool Registration" in the Navigation section along the left hand side of the screen.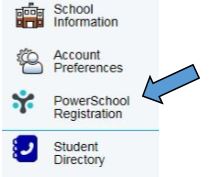 3. Find students name and click "Start Form" to begin.

4. After downloading the "Signature Form" at the end of your registration process, the following documents will be used to complete your enrollment.
Highlighted documents are required (Required documents need to be filled out, printed, & returned on or before enrollment, August 6th)
* Documents marked with the asterisk are Read Only Forms
All fees are due by enrollment (August 6th).
Payments can be made online via our website (www.usd381.org), school app, PowerSchool parent portal, or in our office via check/cash.
USD #381 SPEARVILLE
FEE SCHEDULE
2019-20
BOOKRENTAL FEES:
Grades K-5 $42.00
Grades 6-12 $45.00
BREAKFAST FEES 10 Days 20 Days
Grades K-5 $1.30 $13.00 $26.00
Grades 6-12 $1.40 $14.00 $28.00
Adults $2.05 $20.50 $41.00
LUNCH FEES 10 Days 20 Days
Grades K-5 $2.25 $22.50 $45.00
Grades 6-12 $2.75 $27.50 $55.00
Adults $3.75 $36.00 $72.00
Extra Milk $ .40
MISC. FEES
Technology Fees $ 25.00 Grades 4-8
$ 40.00 Grades 9-12
Band Rental: $ 54.00 Per Year
Art – Grade 7 $ 15.00 Per Year
Art – Grades 9-12 $ 35.00 Per Year
Drafting Fee-Grade (8th)-12th $ 10.00 Per Year
Summer Driver Education $ 200.00 Per class
Patron Cost Per Copy $ .15
RENTAL OF SCHOOL FACILITIES
Band Room $ 25.00
Elementary Gym $ 25.00
Gym – Town Team-Basketball/Volleyball $ 5.00 per event
Old High School Gym $ 40.00
Barbeque Grill $ 25.00
(There is a deposit of $50.00 for the elementary gym and barbeque grill rental)