NOTICE
OF INTENT TO FILE AN APPLICATION FOR PERMISSION
TO VOTE AND ISSUE SCHOOL BONDS IN EXCESS OF
THE DISTRICT'S GENERAL BOND DEBT LIMITATION
To the Electors of Unified School District No. 381, Ford County, Kansas (Spearville):
You are hereby notified that the Board of Education (the "Board"), of Unified School District No. 381, Ford County, Kansas (Spearville) (the "District"), will make and file its application with the State Board of Education, Topeka, Kansas, together with proof of publication of this Notice, for permission to vote general obligation bonds (the "Bonds") in excess of the District's general bond debt limitation for the purpose of providing funds to pay a portion of the estimated $6,870,884 costs to: (a) construct, equip and furnish an addition to the existing Spearville Elementary School within the District to create new general purpose classrooms, special education classrooms, a multi-purpose room which will also serve as a storm shelter for the building, administration and support areas, new restrooms, and storage areas; (b) make improvements and upgrades to an existing classroom in the Spearville Elementary School to convert such to a music classroom; (c) make improvements and renovations to existing areas in the Spearville Elementary School; (d) demolish portions of the existing structure to accommodate the proposed improvements; (e) construct improvements to the new main entry of the new addition for parking and bus drop off, controlled access and enhanced security; (f) make improvements for handicap access and ADA compliance; (g) expand and make improvements to the facility playground area; (h) make all other necessary improvements appurtenant thereto (collectively, the "Project"); and (i) pay costs of issuance and interest on said general obligation bonds of the District during construction of the Project. The costs of the Project will be payable from proceeds of the Bonds in an amount not to exceed $5,770,000; the balance of the costs shall be paid from existing District windfarm gift monies and interest earned on the reinvestment of Bond proceeds.
The application will be filed pursuant to a resolution adopted by the Board on August 5, 2019, under the authority of K.S.A. 72-5458 et seq., as amended.
Dated: August 5, 2019.
BOARD OF EDUCATION
UNIFIED SCHOOL DISTRICT NO. 381,
FORD COUNTY, KANSAS (SPEARVILLE)
By: /s/ Michael Hubbell, President
ATTEST:
/s/ Shawna Thacker, Clerk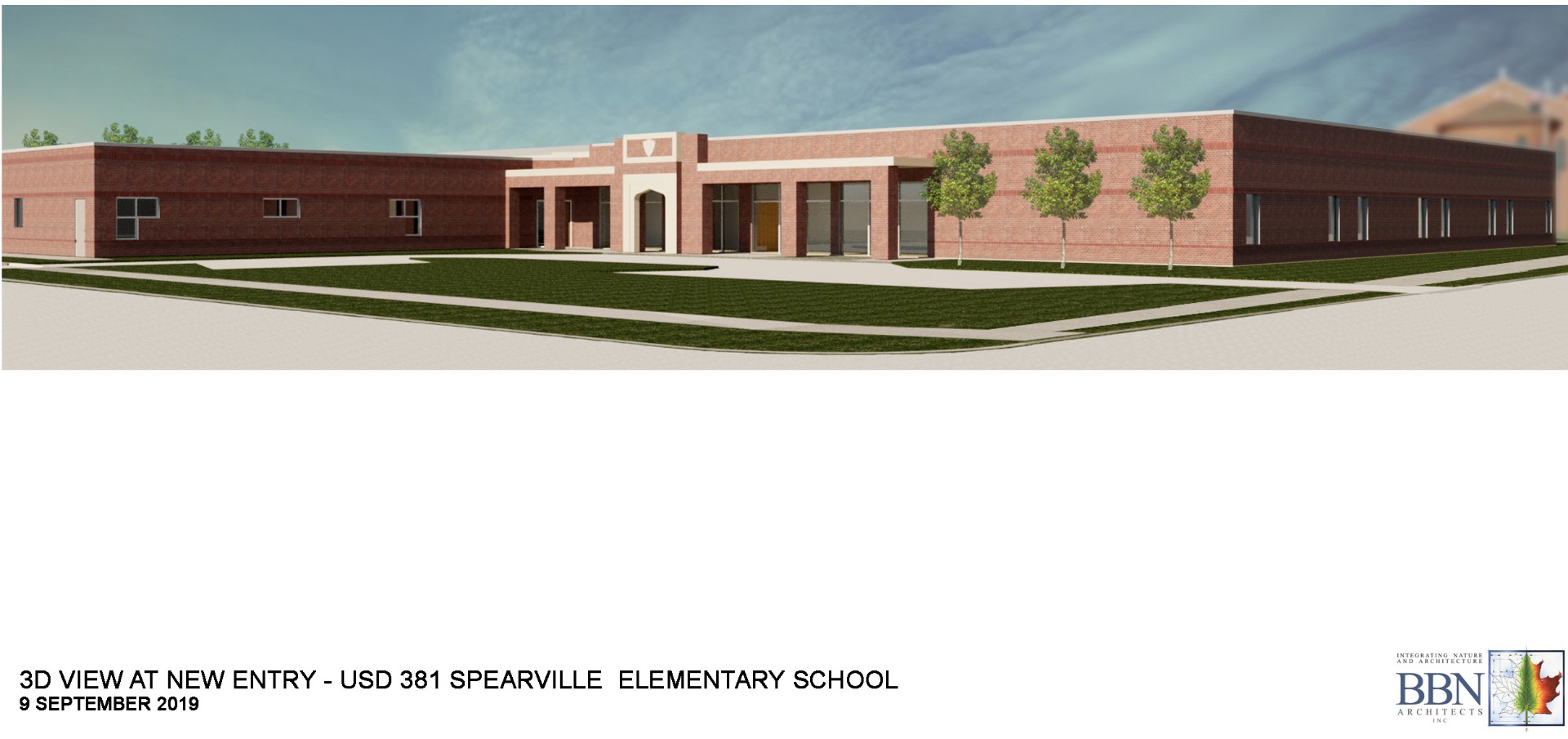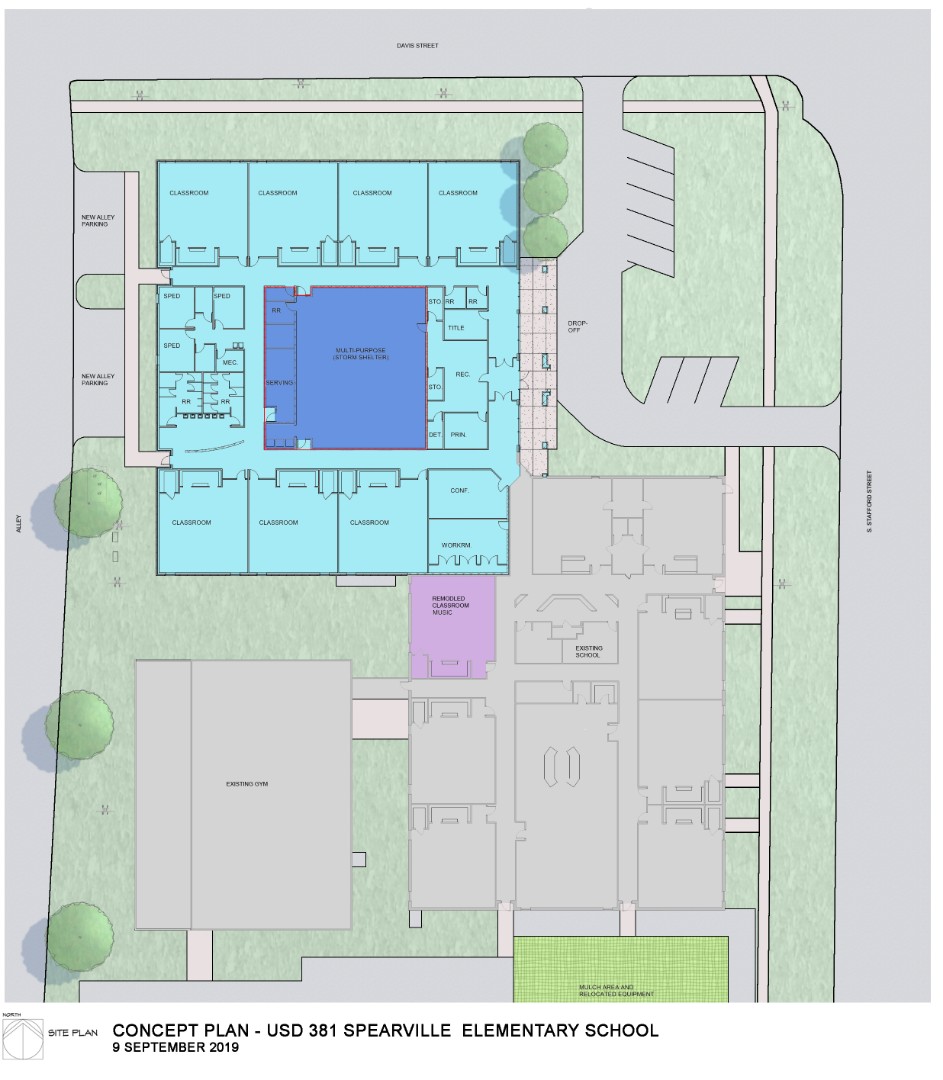 Educational & Facility Challenges
The 2019 bond issue will address physical & educational challenges at the existing Spearville Elementary School.
The original portion of the Elementary School was constructed more than 90 years ago (1925), with an addition constructed more than 50 years ago and another addition in 1999.
The Elementary School has served our students, district, community, and area well for decades, but change in education require larger classrooms and more flexible learning spaces.
The original portion and the 1960's west addition has significant challenges as to environment, accessibility, size of classrooms and support spaces, storage, and mechanical and other systems that are outdated and expensive to operate and maintain.
Aged plumbing won't allow toilets to flush at the same time due to water pressure challenges.
Some windows are old and not energy-efficient and the oldest roof structure needs replacing.
Old, outdated window air-conditioner units are noisy and disruptive to education.
Spearville Elementary lacks an adequate storm shelter area to protect students and staff in violent Kansas weather.
Security is also a priority and the current office location lacks visibility and control of who can enter the building.
The environment in the older portions of the Elementary School affects teaching and learning.
The configuration of stairs and lack of an elevator make it difficult for students, staff, and visitors with physical challenges to reach activities on the second floor of the original building.
The older portion of the building has handicap access challenges and does not comply with ADA codes.
Student pick-up/drop-off areas and visitor parking areas to be improved for the safety of students and visitors to our Elementary School.
Proposed Bond Issue Solutions
Construction of an addition of approximately 18,000 sq. ft. to provide seven new general-purpose classrooms, a Special Education suite, and a Title 1 area.
New addition includes a new Administration area and Teacher Workroom.
New addition also includes a new multi-purpose room, that will also be additionally reinforced to serve as a needed storm shelter area.
New multi-purpose room will provide space for after-school programs with air-conditioning needs.
Larger, more appropriately sized classrooms and support areas for today's education needs.
New addition will have modern and efficient HVAC systems, plumbing, electrical and lighting system improvements, and will comply with today's ADA and other code requirements.
Entire Elementary will be on one level for enhanced access for students, staff, and visitors.
For improved security, the plan includes a new entry canopy, security cameras, and a controlled access vestibule entrance, controlled by the new Administration area.
The plan includes remodeling of the existing classroom to create a modern Music Room with improved soundproofing.
Additional improvements include relocating and improving the primary playground area and creating an off-street student pick-up/drop-off area to increase student safety.
The plan includes razing the original 2-story school building and the older west addition.
An investment to make Spearville a more attractive destination for teachers, staff, new businesses and new families.
Finance-Window of Opportunity with NO PROPERTY TAX
Total proposed bond issue amount of $5,770,000 to pay project costs of $6,725,576 plus bonding costs, with balance to be paid by existing windfarm gift monies of $1 million.
Interest rates, estimated at 3%, are near historically low levels.
Proposed bonds to be amortized and retired in 14 years (2033).
These contracted gifts are adequate to retire the Series 2012 bonds in 2032 and the proposed Series 2019 bonds in 2033.
Windfarm gift monies allow USD 381 the opportunity to make long-lasting improvements to our schools without taxing our homes, businesses, and ag property assets.